A Danish aid worker; Anja Ringgren Loven, rescued a 2 years-old young boy who had been ostracized by his community in Nigeria for being a 'witch.'
The first day Anja laid her eyes on Hope
Writing on Facebook, Anja Loven said: "On the 30 January 2016, I went on a rescue mission with David Emmanuel Umem, Nsidibe Orok and our Nigerian team."
When Anja Loven first laid eyes on the toddler walking naked through the dusty streets of south-east Nigeria, he was riddled with worms and so weak he could barely stand
because he had been living on his own on the street, after been accused of being a witch. Hope was emaciated, riddled with worms and suffering hypospadias, "an inborn condition in which one has an incomplete developed urethra", she says.
So Anja gave him a name to give him the strength to recover: Hope.
When she rescued Hope
'Hope is like a son to me. Like the rest of our children I love him more than words can describe,' she told MailOnline.
Reliving the moment she first laid eyes on his skeletal frame, Anja said:
'I was so sick to my bones to see a two-year-old boy in such a horrible condition.
When we first entered the village I looked over my shoulders and slowly turned around to see Hope sitting on the side of the road.
I thought I was going to see a bigger boy but when I saw he was the size of a little baby, my whole body froze.
I became a mother myself 20 months ago and I was thinking of my own son when I saw Hope.'
He had been fending for himself on the streets for eight months since when Anja and her team rescued him in January 2016.
Relief team giving sick Hope a bath
The child was taken to hospital the same day, where doctors discovered he had contracted several diseases after living on the streets for so long.
He was immediately given medication to get rid of the worms in his stomach and daily blood transfusions to raise the number of red blood cells in his body.
Anja said: 'He got the best treatment we could give him, and everyday my team and I was hoping that he would survive... Very quickly we discovered that Hope was a very strong boy. A little fighter.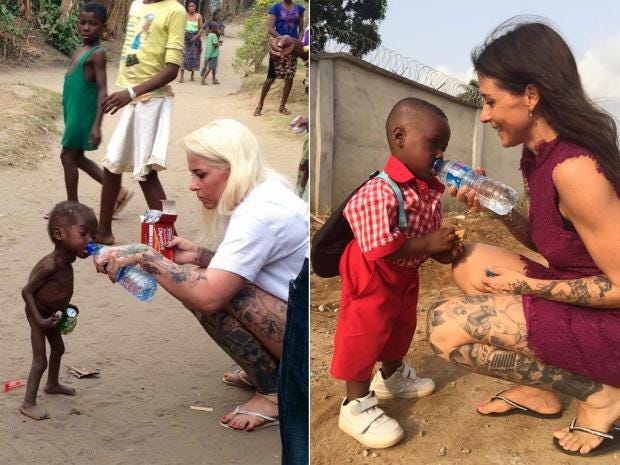 Anja Ringgren Loven marked the landmark in three-year-old Hope's life by recreating the image of her, encouraging him to drink from a bottle of water, which was shared around the world one year ago. This was on his first day of School.
Now Hope, is healthy, going to school and living a normal life as a child.
Hope looking healthy and happy
She told MailOnline:
'Once a child has been accused of being a witch, there is no turning back.
'Villagers will call for the child to be exorcised nightly by a local priest to rid him his evil spirits. Or the parents will bring the child to a witch doctor, who also has "magical powers" to exorcise the witch.
In Hope's case, we have little information about his parents and why they accused him of witchcraft.'
Witch accusations is a growing problem in many African countries, especially in Nigeria, where Anja's charity African Children's Aid Education and Development Foundation care for other children like Hope.
Nigerians can point to anything from death and illness in the family, crop failures, lay offs and infertility as a reason to justify accusing someone of being a witch.
Just days after Anja asked for world's help with Hope's costly medical bills, she received $1million in donations from around the world.
'My team and I are so overwhelmed by all the love we are receiving from all over the world,' Anja said.
'This is something we have never dared to dream about. We have been fighting this superstition for many years and finally the whole world is looking at the important work we are doing.'
Hope
Ms Loven and her husband, David Emmanuel Umem, run an orphanage in south-east Nigeria for children who have been abandoned by their families as a result of superstitious beliefs, called the African Children's Aid Education and Development Foundation (ACAEDF).
The foundation was created three years ago to help children who have been labelled witches and therefore neglected or even killed by the members of their community.
Details about donating money to help children like hope can be found
HERE
Anja, husband and kids of their foundation, photo taken during her pregnancy, before she found Hope.
Ms Loven was named "the most inspiring person of the year 2016" by Germany's Ooom Magazine at the end of last year, beating the likes of Pope Francis and Barack Obama to the title.
Georg Kindel, OOOM's editor-in-chief, who led the jury that chose the list, said: "When she saw the starving child, she acted like a human being and became an inspiration for millions. Her sustained efforts to help the abandoned children of Nigeria gives us hope and encourages us to follow suit."
Anja Loven
(Disclaimer: We take no credit for the photos)
If You Enjoyed This, Take 5 Seconds To Share It